What is Fee for Service?
The Fee for Service option is applied when students are wanting to study courses that are not subsidised from the government or if the student it not eligible for a course that is covered under the government funding.
What courses are offered under Fee for Service?
Course Fees
Accredited Qualifications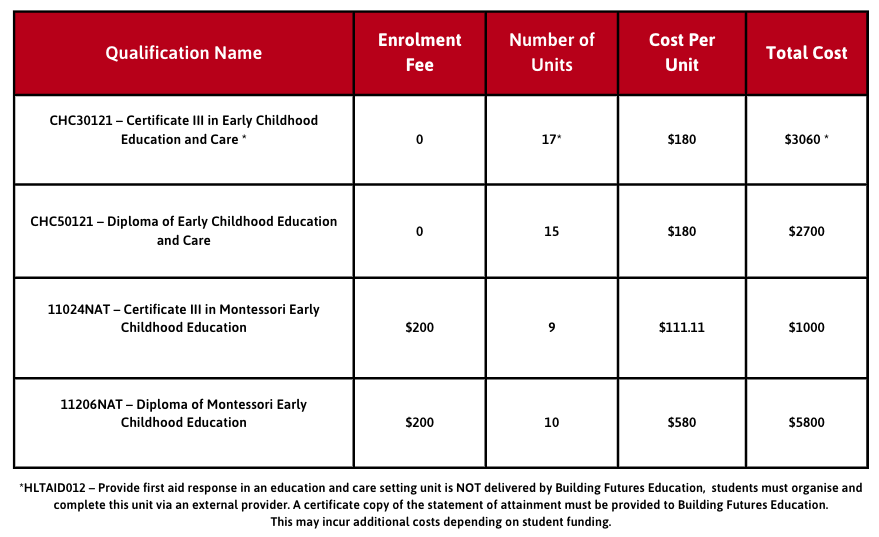 Non-Accredited Qualifications

The Contribution fees include: All materials used during the course, Assessment tools, Access to textbooks, and support throughout your course.
Credit Transfer
Students can be granted Credit Transfers towards their course with the basis of outcomes gained through participation in courses or training packages with another Registered Training Organisation.
In order for the Credit Transfers to be granted the student must supply a copy of their course transcript and allow Building Futures Education to access their USI Transcript. Information on how to give access will be emailed to the student during the enrolment process.
Payment Options
UPFRONT PAYMENT: Students may choose to pay up to $1500 for their course upfront. Further payments of up to $1500 can be made at a later in the students enrolment. Course fees are to be paid via bank transfer to Building Futures Education once an invoice is received.
PAYMENT PLANS : Building Futures Education offers payments plans to students who require it. Payment plans are individually created with the student to ensure they meet the needs of the student.
How To Apply
Step 1: Enrolment Enquiry – To let us know that you are interested in studying the Certificate III in Early Childhood Education and Care complete an Enquiry Form online. We will assess your eligibility for Certificate 3 Guarantee funding. Once we have received this form and confirmed eligibility we will send you an information regarding your course. You will be required to send back a confirmation that you would like to go ahead training with us.
Step 2: Complete Induction course – You will be sent a link to log into our Student Management System Accelerate to complete our online induction course. During this induction you will be given in depth information about your course and Building Futures Education. Once this is complete you will be sent the online enrolment form.
Step 3: Commence Training – You will be enrolled into the Nationally Recognised Course you have chosen with Building Futures Education and you can commence your training.
How To Apply for Courses & Workshops
To start the process of enrolment for the Courses and Workshops click on the Course you would like to enrol in at the top of this page and complete the forms on those pages.