What is User Choice Funding?
The User Choice program allows you to have the benefit of earning while you are learning. Apprenticeships and traineeships provide a combination of employment and structured training. This program allows you the flexibility to select a government approved Registered Training College to provide the training.
Through the User Choice program the government contributes towards the cost of training for eligible Queensland apprentices and trainees.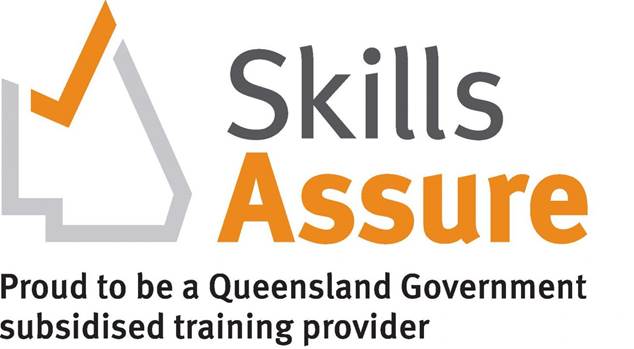 What courses are offered under User Choice Funding?
Eligibility Criteria
To be eligible to receive subsidised training under the User Choice program you must:
be employed in an approved apprenticeship or traineeship in QLD.
have entered a training contract for a qualification funded by the government
have selected a government-approved training provider.
Age requirements 17yrs or older. (If the Apprentice or trainee is under 18 years of age at the date of signing the training contract, the signed consent of a parent or guardian is required.)
Employer Information
Contribution Fees
Through the User Choice program the government contributes towards the cost of training for eligible Queensland apprentices and trainees.
The fee may be paid on your behalf by a third party such as your employer or your parents, but it cannot be paid by your training provider.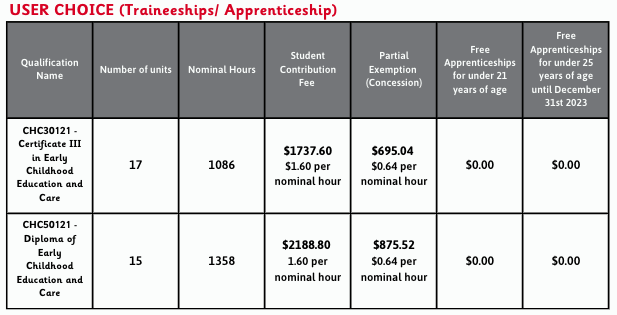 The Student Contribution fees include: all materials used during the course, assessment tools, access to textbooks, and support throughout your course
Concession Eligibility
Students who meet any of the following requirements below at the time of their enrolment may be classed as a concessional student:
The student holds a Health Care Card or Pensioner Concession Card issued under the Commonwealth law, or is a dependant of a person who holds a Health Care or Concession Card and is named on the card.
The student is an Aboriginal or Torres Start Islander
The student has a disability
The student is an adult prisoner.
Note: Proof of eligibility for concession must be provided prior to the commencement of training.
Important Information
An apprentice or trainee can only receive one government contribution for a User Choice funded qualification at any single point in time. Once you complete a maximum of two government contributions for a User Choice funded qualification you will no longer be eligible for further subsidised training under the User Choice 2020-21 program.
Please note that pricing and course availability is subject to change without notice. For more information on this program you can download the Queensland Government User Choice policy here.
FREE APPRENTICESHIPS FOR UNDER 25's
If you are under 25 you may be eligible for the Free Apprenticeships for Under 25's program. Click here for more information.
Credit Transfer
Students can be granted Credit Transfers towards their course with the basis of outcomes gained through participation in courses or training packages with another Registered Training Organisation.
In order for the Credit Transfers to be granted the student must supply a copy of their course transcript and allow Building Futures Education to access their USI Transcript. Information on how to give access will be emailed to the student during the enrolment process.
Payment Options
UPFRONT PAYMENT: Students may choose to pay up to $1500 for their course upfront. Further payments of up to $1500 can be made at a later in the students enrolment. Course fees are to be paid via bank transfer to Building Futures Education once an invoice is received.
PAYMENT PLANS : Building Futures Education offers payments plans to students who require it. Payment plans are individually created with the student to ensure they meet the needs of the student.
How To Apply
Step 1: Find an employer – To be eligible for a traineeship/Apprenticeship you must find a company that is willing to employ trainee's and Apprentices.
Step 2: Commence employment – Once you have been successfully employed as a Trainee/Apprentice complete the Enrolment Enquiry Form on our website. Once we have received this form we will send you an information regarding your course. You will be required to send back a confirmation that you would like to go ahead training with us.
Step 3: Choose an Apprentice Network Provider – Your employer will contact their preferred Apprenticeship Network Provider and will arrange a time complete the training contract with you and your employer.
Step 4: Complete Induction course – You will be sent a link to log into our Student Management System Accelerate to complete our online induction course. During this induction you will be given in depth information about your course and Building Futures Education. Once this is complete you will be sent the online enrolment form.
Step 5: Commence Training – You will be enrolled into the Nationally Recognised Course you have chosen with Building Futures Education and you can commence your training.